Introduction
About Us
Mission Statement
Our home in Baomahun is nestled in the rolling Kangari Hills. Being one of the higher elevations in the village, locals have named our small five acre homestead "Mission Mountain." Our electricity is from solar panels and a generator; our "running" water is from a tank which uses simple gravity to supply our home; we raise chickens and maintain a garden to supplement our diet which based on rice, bulgur wheat, and dried beans. We do not view these circumstances as sacrifices but rather as challenges to be met with a spirit of adventure and creativity.
 To give you a view of daily life, this page features photos from our home and personal life.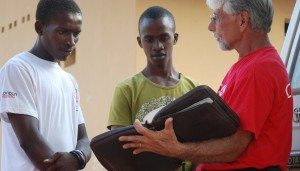 In September 1995, Stephen retired from a 20-year career in the United States Coast Guard. It was while on active duty in New London, Connecticut that a fellow "Coasty" lead Stephen to the Lord on March 24, 1989. He then took the Gospel home to Laura and their daughter, Danielle, then 7 years old, who both received Jesus Christ on May 1, 1989. As a family they joined Victory Bible Baptist Church in Groton, CT where Stephen's friend attended. They served there for 15 years until moving to DeLand, Florida in 2004 for the purpose of attending the DeLand School of The Bible. While in Connecticut they established a circuit of nursing home ministries bringing music and "bootleg preaching"  - preaching from the hymns which the residents knew so well - to 6 area homes and touching hundreds of lives. This fruitful family ministry continued for 13 years until the marriage of their daughter at which time Stephen fulfilled his long-time desire to go to Bible School. It was during the first semester of school when Stephen's heart was touched to minister to the needy people of Sierra Leone, West Africa. He graduated from DeLand School of The Bible in May, 2007 and following 18 months of deputation Stephen and Laura moved to Sierra Leone in November 2009.
Here Stephen is pictured doing what he loves best: personal work. While he certainly enjoys utilizing his gift for teaching and public ministry, personal work remains his greatest joy.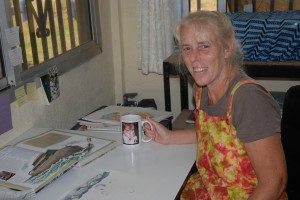 Wife and Homeschool mother, Laura's focus has been to put family first. Upon the graduation of their daughter from homeschooling in 2000, Laura was able to return to art school with the intentions of pursuing a freelance career in natural science illustration. In 2004, when leaving for Bible school, Laura temporarily put aside her goals but God had other purposes for the intensive training she received at Rhode Island School of Design. When leaving for Sierra Leone she never imagined what lay ahead (please see Illustrated Evangelism under Ministries). Due to a debilitating chronic health condition, Laura isn't able to travel the evangelistic circuit with Stephen but the Lord has opened a way fro her to be vitally active in the spreading of the Gospel throughout Sierra Leone though she seldom leaves their home village.
In Addition to written journals, Laura also keeps sketch journals. One of her long-range personal goals is to write and illustrate a devotional book based on her experiences in Sierra Leone.
Founded in 2009 by Stephen and Laura Holt, Gather The Fragments Bible Mission, Inc. (GTFBM) is in the beginning phase of a long-term project. Our objective is to bring the Gospel of Jesus Christ to the native people pf Sierra Leone as well as the larger region of West Africa.
There is currently a wide gulf between Biblical Christianity and the beliefs and cultural norms of West Africa, and it is going to take time to bridge that gulf. The legal and financial structure of GTFBM was set up from the very beginning with the understanding that Stephen and Laura are there to prepare the ground and plant the seeds for the Gospel. In time, others will take their place to tend that ground, and Gather The Fragments will be there to support the work.
The Mission structure and belief is that churches should be self supporting and established by indigenous pastors; our focus is not that of direct "church planting" but rather equipping locals to plant, pastor, and propagate churches by providing the training and materials necessary for them to be successful.
Additionally, based on experience we recognize that proper evangelism methods and personal discipleship are sadly lacking in West Africa. These two areas are a main focus in the GTF Bible Institute as we seek to equip Indigenous Christians to reach their own.
GTFBM also holds to the belief that the Mission should not be encumbered by debt making purchases and advancements only as the Lord provides funds. Nor does GTFBM engage in fund raising making our needs known only to the Lord and waiting for Him to provide as He sees fit.
If you would like more information about Gather The Fragments Bible Mission, or are interested in visiting the Mission Station please contact us.