Date of original journal entry: Saturday, May 7, 2016
Yesterday afternoon, home again in Sierra Leone, I sat on my very own veranda, resting from the work of organizing and cleaning the house and unpacking my five 50-pound bags.  A stream of visitors had been drifting in and out delightfully punctuating my work with leisure and I now had a small clutch of dear friends enjoying tea and conversation.  Margaret, now a young woman, no longer the little girl I left behind.  Juliet, winsome, quiet and sweet.  Beatrice, healthy, strong, and beautiful as ever (see the three-part series, Life of the Flesh, to read of her story).   But it was little Laura, Beatrice's daughter, who stole my heart; she completely beguiled me with her charms.  My namesake, my darling gingerbread baby, was not in the least afraid of me;  I marveled at how remarkably she resembles her father, Michael.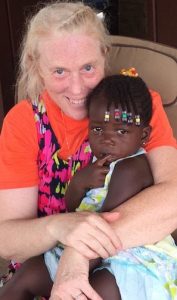 As she was walking about, meandering in and out of the chairs just being cute, we played peek-a-boo; she giggled, her dark eyes flashing with that spark of curiosity which children everywhere possess.  She toddled to the veranda door and, leaning out, she pointed to the building down the hill and said, "Church, Jesus."  My heart completely collapsed!  The reason, the purpose, all bound up and sweetly expressed in two-year-old simplicity: Church.  Jesus.
We ladies continued our tea and lively chatter but my heart stayed on that one brief moment.  A little girl, a baby really, had tenderly reminded me of the eternal purpose.  Except for that purpose there would be no other reason in the world to be here.
Thank you, Little Laura, for your simple yet so very deep lesson.  I love you dearly.  It's good to be home.